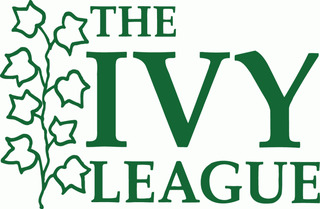 There are 8 colleges and universities in Ivy League. The Ivy League is a collegiate athletic conference comprising sports teams from eight private institutions of higher education in the Northeastern United States. The conference name is also commonly used to refer to those eight schools as a group. The eight institutions are Brown University, Columbia University, Cornell University, Dartmouth College, Harvard University, Princeton University, the University of Pennsylvania, and Yale University. The term Ivy League also has connotations of academic excellence, selectivity in admissions, and social elitism.
General Admission Comparison Between Members in Ivy League
All members of the Ivy League are private schools. The schools' average acceptance rate is 7.00% where Columbia University in the City of New York has the tightest (lowest) acceptance rate of 5.00% and Cornell University has the highest rate of 11%. A total of 150,739 students are enrolled in Ivy League members where Harvard University has the largest population with 31,566 students and Dartmouth College is the smallest with 6,572 students. The average graduation rate is 96.13% and the average students to faculty ratio is 6.50:1 at colleges in Ivy League.
The following table shows the academic information and key facts of the Ivy League including acceptance rate, graduation rate, student population, and students to faculty ratio.
Table.

Ivy League Academic Overview

Name
Acceptance Rate
SAT Score
Graduation Rate
Population
Student-Faculty Ratio
Brown University


Providence, RI

7%
1,505
96%
10,257
6:1 (16.67 %)
Columbia University in the City of New York


New York, NY

5%
1,505
95%
31,077
6:1 (16.67 %)
Cornell University


Ithaca, NY

11%
1,480
95%
23,600
9:1 (11.11 %)
Dartmouth College


Hanover, NH

8%
1,500
95%
6,572
7:1 (14.29 %)
Harvard University


Cambridge, MA

5%
1,515
97%
31,566
7:1 (14.29 %)
Princeton University


Princeton, NJ

6%
1,515
98%
8,374
5:1 (20.00 %)
University of Pennsylvania


Philadelphia, PA

8%
1,505
96%
25,860
6:1 (16.67 %)
Yale University


New Haven, CT

6%
1,515
97%
13,433
6:1 (16.67 %)
Average
7.00%
1,505
96.13%
150,739 (Total)
6.50:1 (15.38 %)
Ivy League 2021 Tuition Comparison and 2022 Estimated Costs
The following table lists 2020-2021 tuition & fees and compares them between Ivy League. The 2020-2021 costs are officially published by IPEDS, U.S. Department of Education. The estimated costs for the academic year 2021-2022 are calculated and estimated based on each school's rate of tuition change from 2020 to 2021.
For the undergraduate programs, the average tuition & fees of Ivy League is $57,752 where Columbia University in the City of New York has the most expensive costs at $61,671 and Princeton University has the lowest amount of tuition at $48,502. The average graduate tuition & fees of Ivy League is $49,135 where Brown University has the highest tuition with $60,363 and Cornell University has the lowest amount of graduate school tuition with $30,022.
Table.

Ivy League 2021 Undergraduate Tuition Comparison and 2022 Estimation

| School Name | 2021 Tuition & Fees | 2022 Estimated Tuition & Fees |
| --- | --- | --- |
| Brown University | $60,696 | $63,078 |
| Columbia University in the City of New York | $61,671 | $62,784 |
| Cornell University | $59,282 | $61,416 |
| Dartmouth College | $60,117 | $63,178 |
| Harvard University | $54,002 | $56,162 |
| Princeton University | $48,502 | $44,554 |
| University of Pennsylvania | $60,042 | $62,403 |
| Yale University | $57,700 | $59,987 |
| Average | $57,752 | $59,195 |
Table.

Ivy League 2021 Graduate School Tuition Comparison and 2022 Estimation

| School Name | 2021 Tuition & Fees | 2022 Estimated Tuition & Fees |
| --- | --- | --- |
| Brown University | $60,363 | $62,628 |
| Columbia University in the City of New York | $51,194 | $52,450 |
| Cornell University | $30,022 | $30,022 |
| Dartmouth College | $58,120 | $60,377 |
| Harvard University | $50,654 | $52,136 |
| Princeton University | $56,470 | $59,306 |
| University of Pennsylvania | $41,760 | $43,400 |
| Yale University | $44,500 | $45,733 |
| Average | $49,135 | $50,757 |